Carolyn Palmer is an internationally recognized sculptor whose passion is creating larger than life-size bronze busts and figures, many of which are displayed in prominent museums and public venues as well as in various private collections.
Carolyn's most recent work was a spectacular sculpture of Pope Francis displayed in the entrance of the Papal Residence in NYC to greet the Holy Father.  Pope Francis performed a special benediction over the sculpture during his visit to the USA in 2015.   Her first bronze edition of the Pontiff is now at Saint Patrick's Cathedral where it will be permanently displayed in 2017 at the entrance to the Cathedral.
Another prestigous commission was for the Franklin D. Roosevelt Presidential Library and Museum in Hyde Park, NY where she created two dynamic bronze busts of Franklin and Eleanor Roosevelt for the main entrance of the newly renovated Library.  Her impressive pieces caught the attention of the New York Times where they were photographed and published for the library's extensive newspaper
article in 2013. 
These renown and larger than life size bronze Roosevelt busts will proudly greet over 100,000 visitors each year.
In 2015, Carolyn unanimously won a national competition out of 70 applicants to sculpt a life size bronze figure of Lucille Ball for Lucy's hometown in Jamestown NY.   The sculpture was unvieled on Lucy's birthday,  August 6th, 2016.  Carolyn's impressive sculpture received worldwide recognition and was covered by the Associated Press,  New York Times,  Smithsonian Magazine,  USA Today,  Huffington Post,  Time Magazine,  Business Insider,  Yahoo News,  CNN,  NBC,  CBS,  ABC,  FOX,  Hollywood Reporter,  Seattle Times,  Los Angeles Times,  Reuters and many other international networks.   Carolyn was also interviewed by the BBC and NPR broadcasting networks.
Carolyn also has her sculptures on loan at the New-York Historical Society in New York City, the Sara Deleno Roosevelt House and the New York State Museum in Albany, NY where they were featured in a recent exhibition.
Another prestigious commission was her larger-than-life-size (full figure) bronze Thomas Jefferson which highlights the lobby of the prestigious Jefferson Center in Syracuse NY.  a televised celebration was unveiled by Mayor Matt Driscoll in 2004.
CBS discovered Carolyn's talent and her sculptures can now be seen on the set of their television series, "Madam Secretary."
The National Italian American Foundation  (NIAF) commissioned Carolyn's work for the Mario M Cuomo Trophy awards.   The first award was given on March 22, 2017 at the NIAF  Gala at Cipriani's in NYC
Her first edition of Orville and Wilbur Wright were commissioned by a Sanford/Orlando (FL) Airport and proudly displayed in the terminal entrance.  Terrwilliger Productions (a Los Angeles-based aviation motion picture production company) purchased a second edition of her Wright Brothers. ( .terwilligerproductions.com )
She was also chosen by former Mayor Christopher Doherty of Scranton PA to create a life-size park scene of Scranton natives, Vice President Joe Biden and former Pennsylvania Governor Robert P. Casey.  The project moves forward pending financial support.
Carolyn was recently chosen to create a full life size bronze figure of the revered Preston Smith, a pioneer of the ski industry and the founder of Killington Vermont Ski area.
http://mountaintimes.info/commemorated-bronze/
Sculptor Carolyn Palmer with FDR Grandson,
David Roosevelt at Hyde Park Unveiling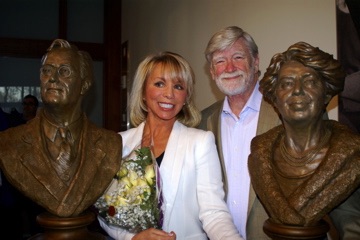 © 2014  All Rights Reserved.   Palmer Sculptures  N.Y. Tel.  845 245 8299  Web Design by   AR Digital Media.
FDR Sculpture on CBS TV show,
"Madam Secretary"
Cover Story for Orange Magazine
Hudson Valley Media Group
New York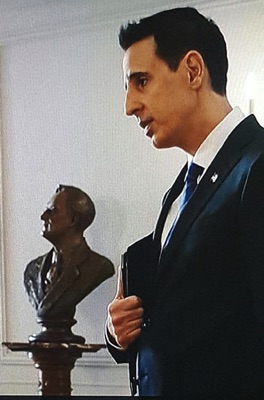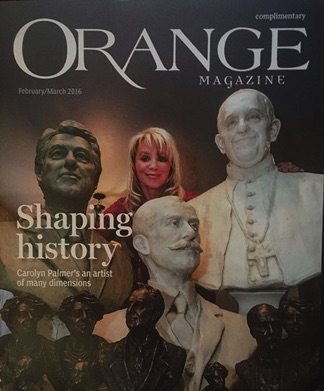 Saddle River Magazine Cover Story
June 2016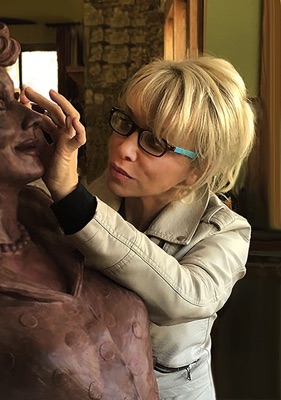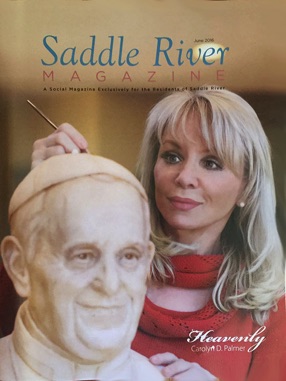 "Bringing Bronze To Life"
CAROLYN'S AFFILIATIONS:
Trustee FDR Presidential Library
Chairman's Council New-York Historical Society
Past Trustee Vera House Foundation